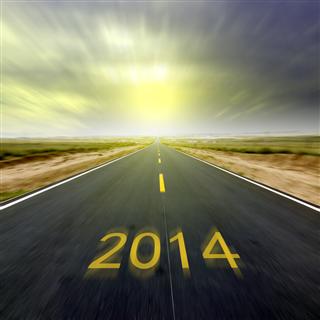 Yet another year has rolled by in the lives of all living beings without causing a ripple in their mundane life. However this is an occasion for all of us -human beings to look back on the successes and failures of the year gone by and think over what were the achievements or the lack of them in our life. Although in the beginning of the year we lay ambitious plans for a successful period of sustained progress in our life it does not always pan out the way we want. There will be many upsides and downsides working beyond our control. It will be futile to hope that every step we take will bear success. However it is absolutely essential that we have to have a well thought out plan of action and work our way to achieve them.
As the years pass by one is not sure whether a certain degree of success has been achieved or likely to be achieved in the limited period of life scale. A year gone by without any major change in one's life is a significant period of one's life that is never to come back. And at the end of the year it is also an occasion for us to rejoice at our successes or to regret for the many opportunities that we lost without realizing that the time lost can never be regained. It is therefore essential that what ever we plan in the beginning of the year are meticulously carried out and no room is allowed for negligence. However it is also possible that there will be many impediments in the execution of our plans beyond our capacity which will knowingly or unknowingly upset all our calculations. But then a life time is not merely one of a set pattern or scale but it is just a process of happenings ordained by a divine power. We will all play out our roles and wait for the results to roll out. Many of us excel in our roles but many fall by the way side leaving no marks of our existence.
I have entered the homestretch after traversing a long distance in life but can I say that I have left any foot marks for others to remember me by? All I can say is that I have lived a good life and at the end of it all have left a legacy if not very spectacular but sufficiently blemish less. I am now entering my eighty fourth year coinciding with the new year and feel that I have many accomplishments yet to fulfill but could not as I have lost my way and direction. I am sure that I will have the continued affection and love in abundant measure of those whom I happened to rub shoulders with in my long life.