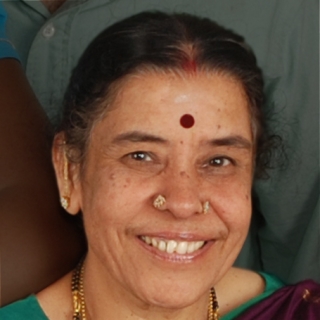 Tragedy struck me on the night of Friday the 6thJuly when I bade farewell to Jaya my beloved wife of 34 years. Although the end came expectedly, it drowned us in utter gloom and sorrow. It was the end of a beautiful relationship.
Born of a moderately well-to-do family in a remote village in the Palghat district of Kerala, Jaya did not have the trappings of a happy childhood as the family lost their ancestral farmlands to the government under the 'land for the tiller' syndrome of the party in power with little or no compensation. The family faced penury and forced the head of the family leave home to pastures unknown to eke out a living. Jaya and her kid sister and brother were deprived of a proper school education. In course of time Jaya's mother fell seriously ill and passed away leaving the children orphaned.
The next phase in Jaya's life was a happy one. She was married in 1978 and shifted to Bangalore to lead a comfortable life. She eventually became the mother of three beautiful girls and travelled widely. The children grew up and acquitted themselves creditably bringing joy and happiness to their mother who was very proud of her three children. In due course the girls completed a brilliant academic education. The proud mother would not rest content until they were married and settled in their lives. The girls were married at intervals of three years each. Jaya was happy and very proud that her off springs were well educated and well settled in life, a life she herself could not enjoy. She travelled overseas to America and England to spend time with her two children who were settled there.
During this period fate had been working on a different scenario in her life. Towards the fag end of the year 2011 she miraculously escaped death in a car accident, which however left a scar in her composure. Thoughts of death had sown its seeds in her mind and she often talked about the cruel hand of death lurking around. Three months later she was diagnosed as having contracted the dreaded cancer and her health showed rapid signs of deterioration despite the best of medical treatment given. Eventually she passed away on the 6th of July, 2012. She appeared to have had a premonition that the end was near and she would not cross the year 2012!