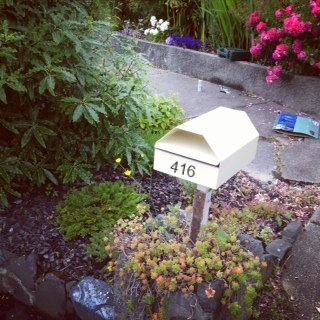 I spent perhaps the best part of my retired life in a particular house which is old fashioned compared to the ultra modern houses of today. There was some thing about this house with wonderful memories that has become a part of our life and although we lived later on in much bigger houses with so many modern amenities we love to relive those wonderful years all over again. There was something about the house at 416, 9th Main, I Block, HRBR Layout, Banaswadi that made me and my family of wife and three lovely daughters feel 'at home' for well over 15 years.
My children were very young when we moved into the house from Rajajinagar and I was at the fag end of my service. The house was spacious enough with a large compound on three sides which was barren in most part. I spent a lot of my retired life to raise a garden around the house. In about a year we had rose, jasmine and other flowering plants which sprung around the house. We had fruit bearing trees like guava, papaya, wood apple besides melon and pumpkin and other vegetable bearing plants. We had planted plantain and mango trees which in course of time gave us a good yield of fruits.
We spent a lot of time in music and dancing. Yes. My kids were exceptionally good at it. We spend a lot of time sitting in the open patio in front of our house in the evenings and chatting and recalling incidents from our lives. I used to tell my children about my life as a growing up youngster, my working life with several anecdotes which they used to enjoy.
The girls used to tell us about the days' happenings in their school and college. There was hardly a dull moment
Life at home was very comfortable and with children growing up and showing good progress in their studies it was a happy life for us. The girls finished their studies each one graduating from Mt.Carmel College. In course of time they were married and settled in life.